[Pliny, the Elder], The Historie (sic) of The World, Commonl...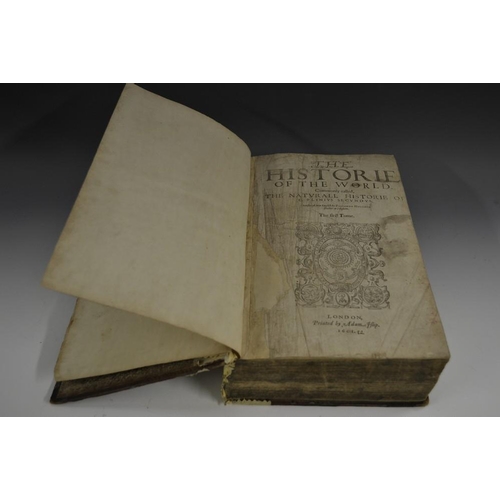 [Pliny, the Elder], The Historie (sic) of The World, Commonly called, The Natural Historie of G. Plinius Secundus, Translated into Englifh (sic) by Philemon Holland, Doctor in Phyficke (sic), first English edition, Printed by Adam Ifip (sic, Islip), London 1601, two volumes bound as one, [55 (lacking 3? unpaginated pages between late preface and contents)], 614pp, index to volume I [32] & (12), 632pp, index to volume II [82], [ii], woodcut devices to title-pages, vignettes to dedication, preface and book no. sub-titles, 17th/18th century reverse calf boards, early 19th century marbled endpapers, red morocco gilt presentation label to front pastedown The Gift of Rebecca Dunn to Thos. Dunn 1825, within a border of two fillets and leafy tendrils, some contemporaneous ink MS marginalia to few pages in volume I, folio
Auction Date:
6th Jul 2017

at 10am



Fees apply to the hammer price:
Room and Absentee Bids:
25.20% inc VAT*
Online and Autobids:
28.8% inc VAT*
*These fees include buyers premiums and internet surcharges.
Please see the
auctioneers terms & conditions
for more information
Other Lots in this Auction
Sale Dates:
6th Jul 2017 10am (Lots 5000 to 6012)

Telephone(s):
01332 210000