WW1 British 23rd "Sportsmans" battalion Royal Fusiliers arch...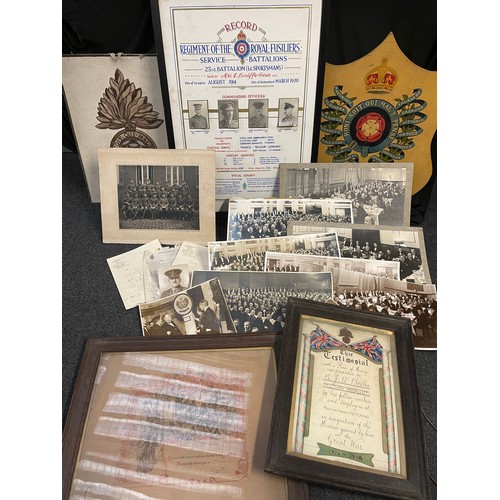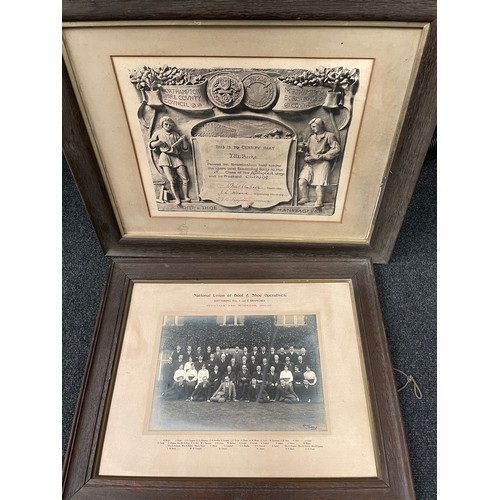 WW1 British 23rd "Sportsmans" battalion Royal Fusiliers archive collection comprising of: a hand painted cardboard plaque of the Regimental cap badge size 554mm x 430mm with hanging tape: Wooden shield with hand painted battle honours, size 620mm x 535mm, signed verso "WJ Allan, painter" with additional marking of "Property of JW Becks, Secretary 23rd Royal Fusiliers Association, Kettering District". : Large mounted photograph of Officers & NCO's undated but taken in Germany during Army of Occupation going by studio mark to the mount, size of image 295mm x 227mm: Postcard size photo of the Commanding Officer of the Battalion, Lt. Col EA Winter DSO, MC: 5 large size studio landscape photographs of the Old Comrades Association Annual Re-union Dinner1936, 1937, 1938 each 440mm x 220mm mounted on cardboard mounts: 4 other reunion dinner photos, similar size but unmounted: two addition reunion photos and three items of correspondence regarding the reunions 1938/39: a large framed hand painted Honour Roll with photos of the Commanding officers, dated Nov. 1936, size 755mm x 535mm: Framed Honourable Discharge Certificate to G/48041 Pte John William Becks, MM Royal Fusiliers size in frame 590mm x 480mm: Hand painted Testimonial to Pte Becks MM given by his fellow workers for service 1914-1918, size in frame 490mm x 375mm: plus a large framed examination cert to JW Becks and a large frame photo of Boot & Shoe workers 1915-1916.
More Information
Overall condition of all the collection is good. Some pin holes to corners where some photos were once displayed.
Auction Date:
14th Jun 2021

at 10:30am



Fees apply to the hammer price:
Room and Absentee Bids:
25.20% inc VAT*
Online and Autobids:
28.8% inc VAT*
*These fees include buyers premiums and internet surcharges.
Please see the
auctioneers terms & conditions
for more information
Other Lots in this Auction
Sale Dates:
14th Jun 2021 10:30am (Lots 1 to 237)

Telephone(s):
01332 210000